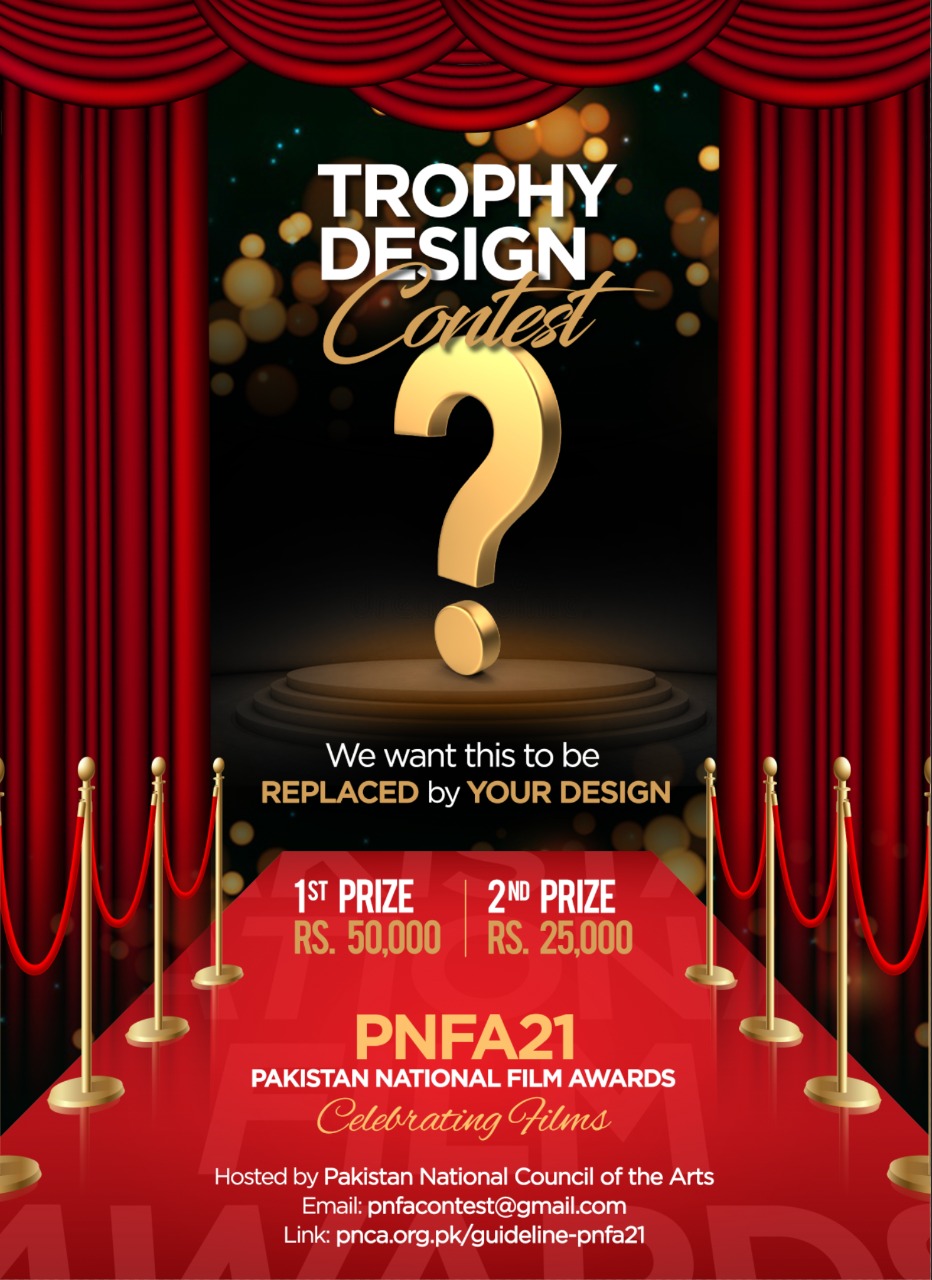 GUIDELINES FOR TROPHY DESIGN CONTEST
"PAKISTAN NATIONAL FILM AWARDS 2021"
PNCA is going to revive the Pakistan National Film Awards (PNFA) 2021 after an absence of 18 years. We are excited to announce a contest to design the trophies for the awards. After necessary modification, the winning trophy design will be modelled in 3D and presented to the winners at PNFA 2021.
Theme: "Celebrating Films of Pakistan"
Submission deadline: 27th March, 2021
Prizes:
1st Best – Rs. 50,000
2nd Best – Rs. 25,000
Special prizes:
Early submission (First 14 considerable entries within a week) – Rs. 5,000 each.
Innovation in design – Rs. 10,000
Closest to theme – Rs. 10,000
Use of innovative material – Rs. 10,000
Details:
The contest is open for all.
Medium: Drawing, painting, illustration, 3D design or mixed medium.
Each entry must be the original work of the participant.
The selected trophy will become the intellectual property of Pakistan National Film Awards.
Only one entry per individual will be accepted.
Application Requirements:
Complete Registration form by clicking on the following link:
https://forms.gle/95d9Zq4H9u3gsjWR6
Photo/headshot of participant.
Design file (2D or 3D image – Jpeg, high resolution).`The file name should be saved as participant's CNIC number.
One pager (pdf) on the concept, dimensions and recommended material.
Note: You may upload up to more than one image if your design has separate attachments or moving parts. Participants should submit their entries online on the above mentioned link.
Don't miss out! It's a once in a lifetime opportunity to be a part of something impressive and make your country proud.
For more information or questions about submissions, please contact PNCA, at pnfacontest@gmail.com or call 051-9215827.